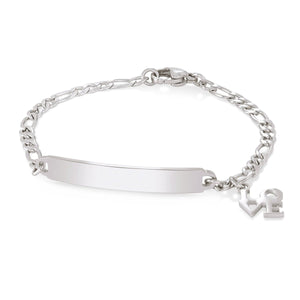 A child's first piece of jewelry should be special. My First ID bracelets are simple, subtle, and can be personalized as a gift or safety precaution. Whether you choose to engrave something sentimental or your child's contact information, he or she will enjoy flaunting their new accessory. This bracelet in particular features a polished plaque ready to be engraved with a charm that says "LOVE" dangling from the chain.
Available in silver.
The total length of My First ID bracelet is 5.5" - 6.0". It is perfect for ages 3 and up.